The Mitsubishi J20 (produced in the 1960's) is one of over 30 different Jeep models based on the CJ-3B body style, and built in Japan under licence from Willys from 1953 through 1998.
Mitsubishi Motors announced on 4 June 1998 that it would stop production of Jeep models, 45 years after their commercial debut in Japan. The Tokyo-based automaker would make its last Jeep in August, said a company spokesman, explaining the decision was made because the vehicles don't meet new environmental and safety standards. Mitsubishi sold about 200,000 Jeeps in Japan -- many to the government -- since it was first granted a licence to make them in 1953.
The original Mitsubishi CJ3B-J3 was built from 1953 into the 1970's.
In the mid-1950's Mitsubishi began building the J10 and J11 with medium and long wheelbases, alongside the J3 and the military J4 version used by both the Japanese Army and the U.S. Army. In the late 1950's, diesel versions and right-hand drive versions were added to the line.
Slightly larger engines were added in the 1970's -- the J54 and military J54A used a 2.7L diesel engine, the J56 had a 2.4L gasoline engine, and the J57 a 2.6L. There were also medium and long-wheelbase models available with all of these engines. From the mid-1980's until Jeep production was ended in 1998, only diesel engines were available in the J50 series.
Link CJ3B
Brochuras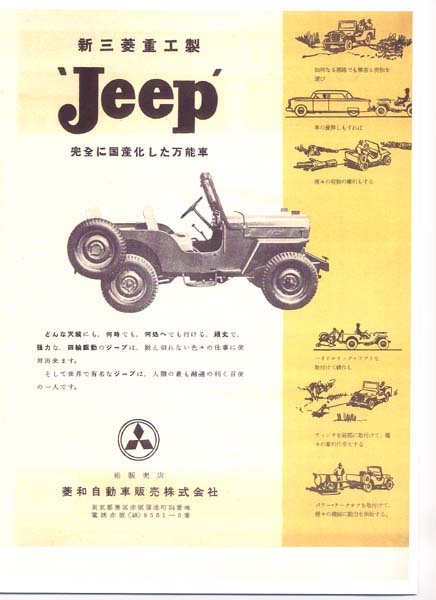 Cumps
Edited by: Umtali at: 7/10/07 17:31

Tenho um J25, não sei se será este o tópico correcto ou seria melhor criar outro tópico para o modelo, visto que o J25 é a evolução deste.

Gostaria de reunir o máximo de proprietários destas máquinas e criei um grupo para o efeito, quem quiser aderir:

https://www.facebook.com/groups/1558575901039749/?fref=ts (https://www.facebook.com/groups/1558575901039749/?fref=ts)